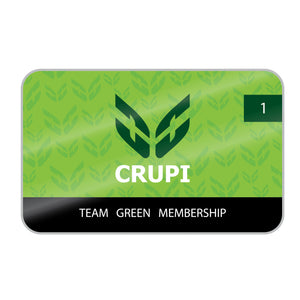 Crupi Team Green for 2017
August 30, 2016 by BMXNEWS.COM Editors 
Crupi's "Team Green" is one of the top grassroots team programs out there. They offer solid support, a tasty product discount for qualified riders, and a very slick kit to rock while you're making it happen on the track. The program shuts-down enrollments each year, but is opening things up early for 2017 so you can get fitted and kitted in time for the big trip to Tulsa.
We got more of the good-word on Team Green from Crupi's commander-in-chief, Greg Swingrover. Here's what he told us:
All of our Team Green teams have had a very successful 2016 season thus far. Interest in the program is always big, so we have decided to step-up the program to the next level! Normally, it isn't til the Grands that we debut our new gear and bikes. But, this year, we have decided to unveil the new gear early! Many riders are starting to make their 2017 season decisions now, so we wanted to give them something to think about. Come check out the Team Green program, and get involved!



Read more at BMXNEWS.com
---